Looking for the best French Bulldog bed to keep your Frenchie cosy and safe? French bulldogs are known for being especially sweet and well-behaved dogs. However, just like any other dog, they have their own set of needs that must be met. One of these needs is a comfortable and safe place to sleep. French Bulldogs sleep for 12-14 hours per day (or more), and puppies can sleep even longer! So, you'll definitely want a bed that's both comfortable and supportive. If you don't already have a bed for your French bulldog or if you're looking for an upgrade from the one he currently has, we've found 6 cosy beds that are perfect for this breed!
Best French Bulldog Bed – Our Top 6 Picks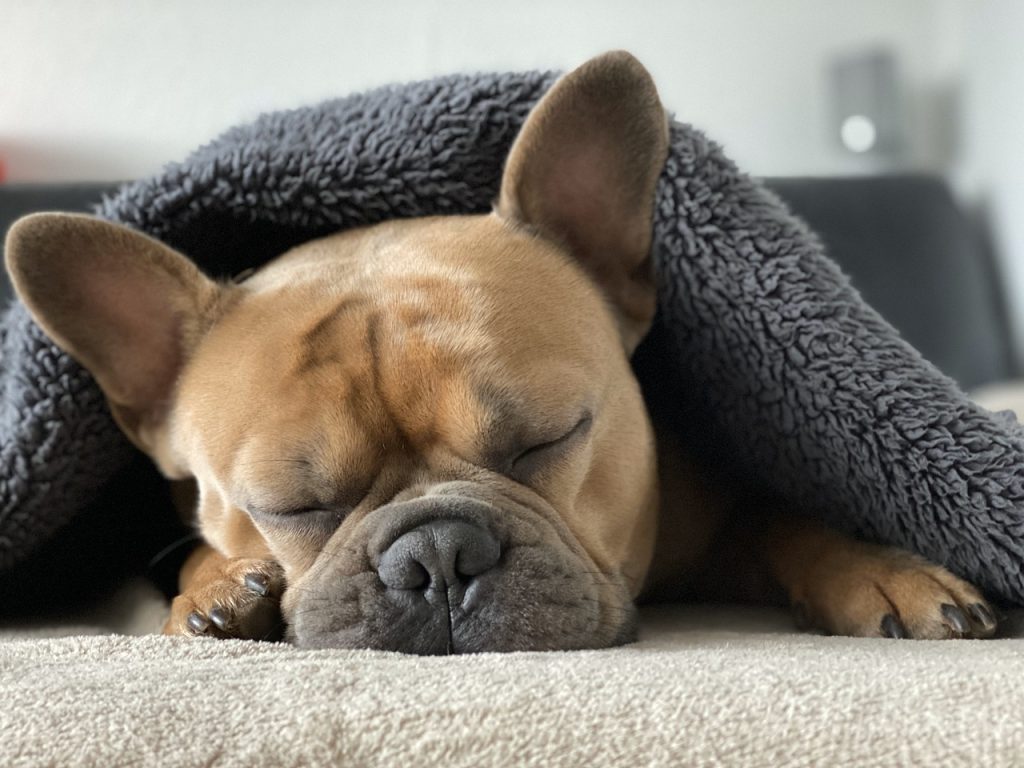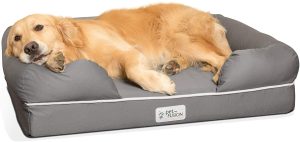 This high quality orthopedic dog bed is suitable for all life stages. Whether your dog is young and still growing, or older and suffering from age related joint issues, this orthopedic bed will give them the support they need to get a good night's sleep. Designed for medium to large dogs (so perfect for your Frenchie) this bed has well filled bolsters that provide excellent support, security and comfort. It is filled with 4 inches of Certi-PUR-US Memory foam and passes strict safety standards. The mattress is covered with a waterproof inner liner to protect against "accidents".
The cover is certified as "skin contact safe" which is important for a French Bulldog as they are more prone to skin allergies. This best French Bulldog bed has a removable washable cover, so it's really easy to keep clean. Just wash, and tumble dry on a low setting and your pooch's bed will be as good as new again. The Petfusion Orthopedic Dog Bed comes with a 36 month warranty on manufacturer defect (this doesn't include damage caused by your dog though!)
Size: Large is the most suitable for a French Bulldog (Inner dimensions 30×22 inches)
Washability: The mattress is covered with a water resistant lining and the cover is machine washable
Click here to see the Petfusion Orthopedic Dog Bed on Amazon
---
Best Friends By Sheri – Best calming donut bed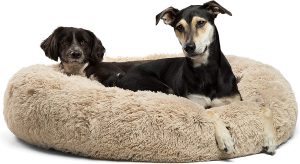 This donut shaped cuddler bed in faux fur is the ultimate in luxury for your pampered pooch. It even comes with a matching fur pet throw blanket. This can also be used as a furniture protector or a dog crate cover. The blanket is perfect for a Frenchie who loves to burrow and dig and it's great to take with you if you're traveling with your dog!
The faux fur is self warming and provides a calm relaxing space for a restful sleep. A high rim provides orthopedic support for your pup's head and neck. The bottom of the bed is water and dirt resistant and the blanket and (small) bed can be tossed in the washing machine for easy cleaning. Long, resilient fibers of the non toxic filling contained in this bed are able to withstand plenty of washes without clumping. It comes in 8 different colors so you'll always be able to find one that matches your décor (or your dog!) This premium looking, luxurious feeling bed would be a treat for any dog, especially your Frenchie!
Size: This bed comes in 4 different sizes. For a smaller French bulldog, you might be able to get away with a medium bed (up to 25lbs). For a larger dog (up to 45lbs) or a dog who just likes to stretch out in their bed, opt for the large bed.
Washability: The bottom is water resistant to stop accidents from reaching your floor. The smallest bed is machine washable but the medium and large have a removable zipper shell that can be machine washed and dried.
Click here to see the Best Friends by Sheri bed on Amazon
---
Snoozer Cozy Cave Pet Bed – Best Cave Nesting Bed
Known as a nesting bed this Cozy Cave bed is perfect for dogs who like to burrow, dig or just snuggle under cover. It's also perfect for a dog who is a bit anxious and might need some extra security. They can stay warm, cosy and enclosed in their own safe space made from Sherpa Interior Fabric. The Cozy Cave comes in 3 different sizes, 40 different colors and has a polycotton or microsuede exterior (depending on which you choose).
There is a concealed plastic rod in the bed which keeps the hood of the bed raised to make it easy for your dog to get in and out. This can easily be removed for washing through a small opening in the hood. A concealed, thin plastic rod keep the hood of their bed raised for easy entry and exit, but can be removed when washing. If you've ever found your Frenchie burrowing under a blanket or under the covers of your bed you know they're going to love a bed like this!
Size: The best size for a French bulldog in this bed range is the Large version. This is 35 inches with a 4 inch sidewall and an 8 inch high hood.
Washability: This bed is fully washable. Just remove the concealed plastic rod that holds up the hood. Then remove the filling from the base using the covered zipper and toss the cover in the washing machine. There are lots of replacement dog bed covers available in different fabrics and colors, so your dog's bed will last even longer.
Click here to see the Snoozer Cozy Cave on Amazon
---
K9 Ballistics Tough Rectangle Nesting Medium Dog Bed – Best dog bed for chewers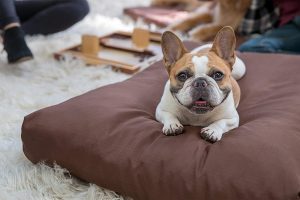 While French bulldogs aren't generally known to be chewers, they do often go through a phase of it when they're younger. This is usually down to teething, which lasts about 8 months. However, there are some adult Frenchies that still chew for different reasons. This could be due to stress, boredom, separation anxiety, lack of exercise or even nutritional problems. They can chew just about anything from your shoes, to your furniture, to their bed. If your French bulldog is a habitual chewer this is a bed that is labelled as "virtually indestructible". It is suitable for diggers, scratchers and nesting dogs.
If you have a really heavy persistent chewer you might want to check out their even stronger K9 Ballistics Chew Proof Elevated Dog Bed. This bed has a durable ripstop ballistic cover that's removable and machine washable. The mattress is made in the USA from shredded CertiPUR-US foam so is very comfortable and supportive. This doesn't have bolsters or raised edges like some of the other beds. It comes with 120 day chew resistant warranty so if your dog manages to chew the cover within this period of time the company will replace it for you (once) for free. The bed is available in a number of different colors and 5 different sizes.
Size: This dog bed (that we're linking to) is medium and the perfect size for a French bulldog
Washability: The outer fabric of this dog bed is really easy to wipe down with a damp cloth, or for a more rigorous cleaning it can be removed and washed in the washing machine.
Click here to see the K9 Ballistics Medium Dog bed on Amazon
---
Furhaven Orthopedic CertiPUR-US Certified Foam Pet Bed

Furhaven is one of the top pet supplies brands on the market, and this is one of the top selling dog beds. It comes in a number of different sizes, outer fabrics and styles with different fillings, including cooling gel foam, memory foam, and egg crate orthopedic foam. It's a very versatile bed that you can choose to suit your dog and your own preferences. We like the L Chaise bed with memory foam filling. This has an L shaped corner sofa design with a bolster for support. All materials used are gentle on noses and paws for burrowing and snuggling.
The sleep surface is made of a soft, plush faux fur. Memory foam filling offers excellent comfort and support while cushioning pressure points, improving body alignment and relieving pain. The covers are machine washable for easy maintenance. It comes with a 90 day warranty against manufacturer defects but is not suitable for pets that chew (so is probably most suitable after the teething stage is over). This Furhaven bed is manufactured in the USA and is independently tested to ensure that it meets all standards, including durability, content and emissions.
Size: This dog bed comes in 5 different sizes but the best size for a French Bulldog (up to 35lbs) is the medium bed. This measures 30 x 20 x 6.25 (with a 3 inch high base).
Washability: The removable dog bed cover is machine washable. Just follow the instructions on the label for best results.
Click here to check the Furhaven dog bed price on Amazon
---
Amazon Basics Round Cuddler Bolster Pet Bed – Best French Bulldog bed on a budget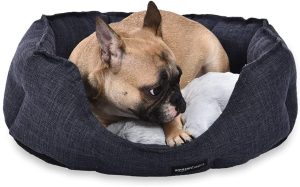 If you're looking for something a bit cheaper than those we've already mentioned, the Amazon Basics Round Cuddler bed gets very good reviews for the price. In fact, it's about half the price of many other pet beds on the market. It's a comfortable little bed with a sturdy base, although the sides are maybe not as sturdy and supportive as some of the more expensive brands. This bed is probably better for a younger dog than an older one that needs more support.
The listing states that it is machine washable, but a few of the reviewers say that there are no washing instructions and that the bed has a label saying "do not wash". This may have been an earlier version of the bed though. You've got to do something to keep your dog's bed clean, and if it wasn't washable this would be a deal breaker for most pet parents. Overall this is a great bed though. It gets a lot of positive reviews and its well worth checking out the customer reviews to see if this is the one for your dog.
Size: Large is the best size in this brand for a French bulldog, however if your dog likes to curl up in a small enclosed space they may prefer the small one. For a big chunky Frenchie though Large will provide a more comfortable space to stretch out in.
Washability: Many customers state in the reviews that they've washed this bed successfully in the washing machine on a cool cycle (gentle) with a warm tumble dry. The bed washes well and is easily reshaped.
Click here to see the Amazon Basics Bed on Amazon
---
Things to consider when choosing the best French Bulldog bed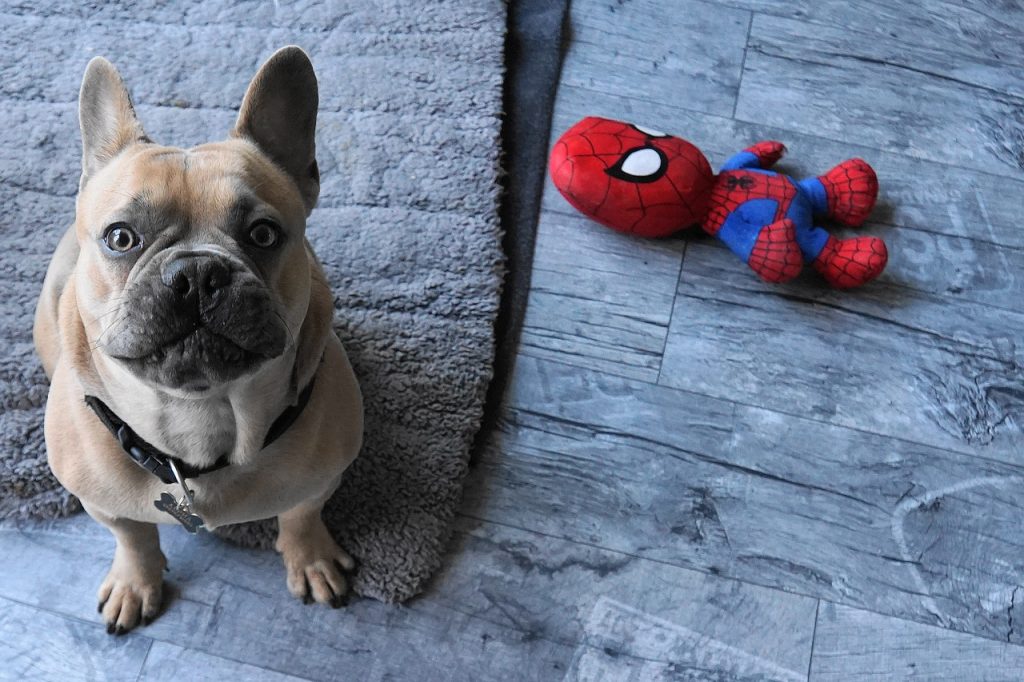 Size
A male French Bulldog typically weighs around 20-28 lbs and a female 16 – 25 lbs. They will reach about 11-12 inches in height. A medium size dog bed will be best for this dog breed. Even though they are relatively small dogs with short legs, they need plenty of space to stretch out when sleeping. A good bed for a French Bulldog should be low to the ground so that they can get in and out with ease.
Durability
French Bulldogs often go through a chewing phase when they're young and teething. The good news is that this usually stops at around 8 months. However, if you've got a dog that's prone to chewing make sure to get a chew proof bed that is strong and durable. Not all dogs stop after teething. There are a number of different reasons why your dog might be a chewer even in adulthood.
Washability
A dog's bed needs to be washed regularly to prevent build up of hair, dander, germs and to prevent infestation of fleas. Some beds are easier to clean than others. If you're choosing a bed for your Frenchie it's a good idea to opt for one with a removable, washable cover. This will make your job a lot easier!
Style
There are lots of different style dog beds depending on how your dog likes to sleep. Some dogs like an enclosed style bed where they can snuggle up in their "cave". If your dog is older they may need an orthopedic bed to help support their joints and keep them comfortable. Cuddler beds, donut beds and nesting beds are all popular beds for French Bulldogs.
How do French Bulldog's like to sleep?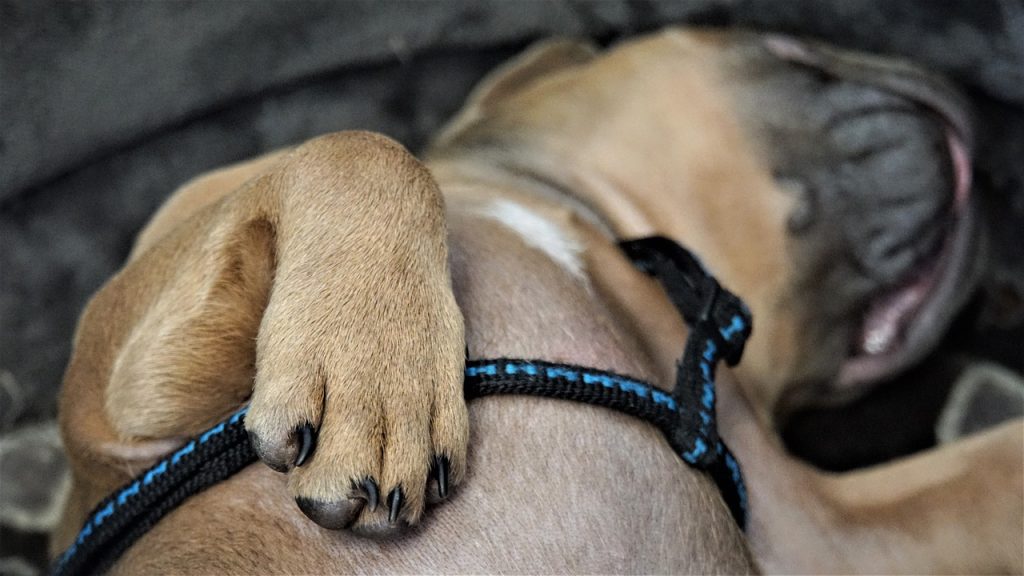 French Bulldog's sleep in all sorts of positions. Sometimes they like to sleep on their side, other times on their front, on their back or curled up. They are sociable animals and often enjoy sleeping with another companion dog. If introduced carefully they can even get on quite well with cats! French Bulldog's are burrowers, which means they like to burrow under a blanket, pillow or even an old piece of clothing. It's a good idea to keep a cosy blanket in their bed so that they can snuggle underneath for comfort, security and when feeling a bit anxious.
Benefits of a good bed for your Frenchie
A comfortable, relaxing sleep
A good quality dog bed will promote more restful sleep which is important in maintaining good health and wellbeing. Just like a human, a dog will feel better after a good night's sleep.
Support for joints
A Frenchie bulldog will sleep for up to 14 hours a day, and a pup for even longer. A soft, supportive bed that cushions your dog's body while they sleep will help to delay the onset of age related joint issues. As your dog ages, they may develop health problems such as arthritis or hip dysplasia. A good orthopedic bed will help to relieve any associated pain and discomfort during the night and when napping.
A safe space for your dog
It's important for your dog to have a peaceful, comfortable place where they feel safe and secure. This will help to ease separation anxiety and gives them a place to get away from the everyday hustle and bustle of home life.
Protects your furniture
It's best for a dog to have their own bed to minimize hair and doggie smells on your furniture. Your Frenchie may end up on the couch anyway but most dogs prefer to sleep in their own beds and should be encouraged to do so.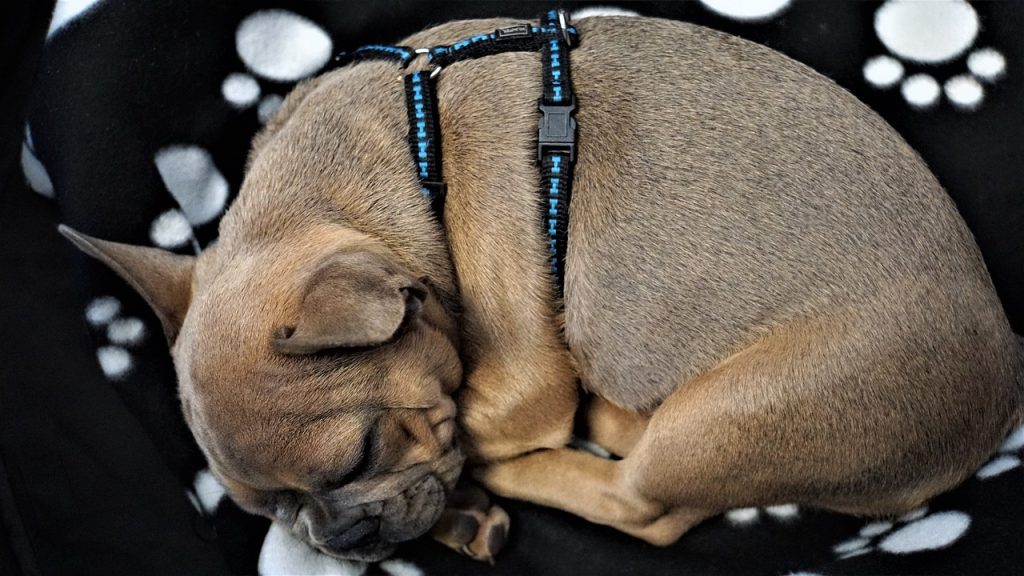 Conclusion
We hope that this article has given you a better idea of what to look for when looking for the best dog bed for French Bulldogs. Remember, a Frenchie will spend more than half their life sleeping! So the most important thing is finding a bed with good support and comfort.
Our top choice is the Petfusion Orthopedic Dog Bed. It's not the cheapest bed on the market, but it is certainly one of the best. Remember a good quality orthopedic bed is an investment into the health of your pooch. They will get a better quality sleep and it will improve their overall health, wellbeing, mobility and energy. Whether your dog is just a pup and still in the growth phase, or is getting on in years, you want them to have the proper support for their joints and muscles as they sleep. This will help to prevent health issues for younger dogs in the long term. For older dogs it will help to relieve the pain and discomfort of problems such as arthritis.
If you'd like more information or have questions about any of our best French Bulldog bed picks, don't hesitate to contact us. Here at Frenchie Expert we know how much it means to find the perfect bed for our best friend.